On this page you will find details of: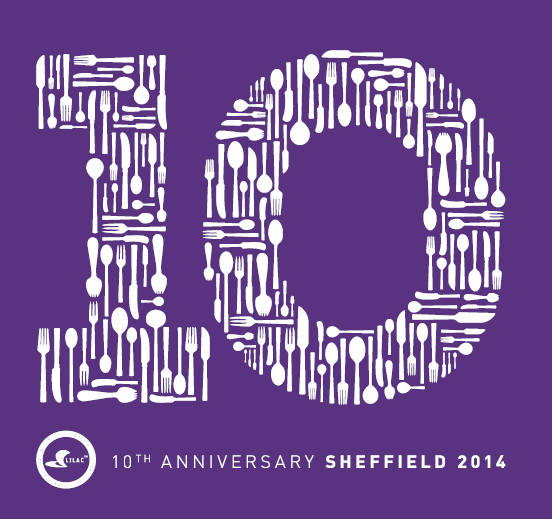 In 2014 LILAC celebrated its 10th birthday at the networking evening in Sheffield City Hall.
A selection of photos from the conference can be found on our flickr.

---
Keynote speakers:
Alison Head (Research Scientist, University of Washington's Information School & Faculty Associate, Berkman Center for Internet and Society at Harvard University) – Truth Be Told: How Today's Students Conduct Research.
Bill Thompson (Head of Partnership Development, BBC's Archive Development Group) – Information Science and the 10 Cultures.
Kate Arnold (Information and Support Programme Lead, Macmillan Cancer Support) – What value and benefits do we add? Why information professionals are essential to successful digital, health and information literacy delivery.
LILAC 2014 was also privileged to receive a video address from Paul Zurkowski, the practitioner who penned the term 'information literacy' 40 years ago. We also have access to a transcript of this address.
---
Themes
The themes for LILAC 2014 were:
Innovative approaches to IL (sponsored by York St John University)
Putting theory into practice (sponsored by Aberystwyth University)
Transitions - IL from cradle to tomb
Outreach and collaboration (sponsored by Information School, University of Sheffield)
IL on a shoestring
Health literacy (sponsored by CILIP Health Libraries Group)
---
Conference Reports:
Hare, R. (2014). Report from LILAC 2014. ARLG North East blog [Online]. Available at: http://arlgnortheast.blogspot.co.uk/2014/05/report-from-lilac-2014-by-rosie-hare.html (Accessed:15 May 2014).
Kelly, B. (2014). Capturing the conference buzz: #LILAC14 as an example. UK Web Focus [Online]. Available at: http://ukwebfocus.wordpress.com/2014/04/28/capturing-the-conference-buzz-lilac14-as-an-example/ (Accessed: 1 May 2014).
Kelly, B. (2014). LILAC14: Feedback. What did people think about the #lilac14 conference? This Storify archive provides a summary of the tweets about the conference. Storify [Online]. Available at: https://storify.com/briankelly/lilac14-feedback (Accessed: 1 May 2014).
McCluskey, C. (2014). LILAC 2014, Sheffield Hallam University. Storify [Online]. Available at: https://storify.com/librarygirl79/lilac-2014 (Accessed: 1 May 2014).
Secker, J. (2014). LILAC 2014: reflections and thoughts. Libraries, information literacy and e-learning: reflections from the digital age [Online]. Available at: http://janesecker.wordpress.com/2014/05/20/lilac-2014-reflections-and-thoughts/ (Accessed: 31 May 2014).
Webber, S. (2014). #lilac14 spotted via twitter. Information Literacy Weblog [Online]. Available at: http://information-literacy.blogspot.co.uk/2014/04/lilac14-spotted-via-twitter.html (Accessed: 1 May 2014).
White, J. (2014). #LILAC14 – behind the #hashtag. Teach Digital Literacy [Online]. Available at: http://teachdigitalliteracy.com/2014/04/29/lilac14-behind-the-hashtag/ (Accessed: 1 May 2014).
Wolfenden, S. (2014). #LILAC14: You don't have to be an old woman to wear purple. The Wolfenden Report [Online]. Available at: http://thewolfendenreport.blogspot.co.uk/2014/05/lilac14-you-dont-have-to-be-old-woman.html?spref=tw (Accessed: 31 May 2014).
---
Papers & Posters:
Andreassen, H.N., Figenschou, L., Flytkjær, V., Løkse, M., Låg, T. & Stenersen, M. From how to why: critical thinking and academic integrity as key ingredients in information literacy teaching (poster).
Andrews, P. Embedding multiple literacies in a MOOC for professionals (poster).
Angell, K., Boss, K. & Tewell, E. The amazing library race: using problem-based learning and assessment in library orientations.
Aston, S. & McIndoe, S. Sympathy for the academic: librarians as lecturers.
Barden, M., Grundy, D. & Prescott, G. A recession-proof information literacy strategy (teachmeet).
Bazela, C., Grant, V. & Tucker, A. History of Medicine 2.0: using creative media to enhance information literacy teaching for 1st year medical students (poster).
Bhimani, N. & Sakarya, B. Digital literacies in higher education (poster).
Blake, J. & Butterworth, K. Clarity in collaboration: making partnerships work in across campus student skills support.
Blunk, R. Alone we can do so little, together we can do so much: embedding information literacy into an assignment planning toolkit through team collaboration.
Blunk, R. Using digital technology to optimise your information literacy offering without breaking the bank (poster).
Boyle, S. & Molloy, J. Opportunity out of change: designing a new approach to student and teaching learning support at UCD Library (poster).
Carbery, A. Online inquiry-based information literacy instruction: designing and delivering a blended IL programme.
Carbery, A. & Leahy, S. Evidence-based instruction: assessing student work using rubrics and citation analysis to inform instructional design.
Carnegie, M., White, J. & Vivian-Shaw, V. Canoodling with careers: cross-team working in information literacy (including LibGuide).
Carritt, A. & Bridle, O. Library induction on the go – delivering library induction via mobile devices (teachmeet).
Carroll, L. & McEntee, A. A collaborative approach to embedding information and academic literacies in the curriculum.
Charles, L. Creating and implementing an information literacy curriculum map: integrating information literacy into the curriculum.
Clarke, Z. Steps to employability: the collaborative development and design of an information literacy programme.
Cook, A., Johnston, G. & Bent, M. Herbal magic: from tiny acorn to mighty oak – a case study in collaboration, outreach and information literacy development.
Coombs, J. & Hollier, C. A quadruple collaboration: students, librarians, academics and industry developing a peer to peer support initiative.
Costigan, A. & Introwicz, M. Team based learning in information literacy instruction.
Courtney, M. ACE in the hole: linking information literacy and practice in a service learning-based context.
Courtney, M., Donovan, C. & Minter, C. Watch, listen & learn: ethnographic methods for information literacy assessment (including worksheet).
Dare, J. & Laing, C. Designing a library e-induction for nursing & midwifery students (poster).
Dimmock, G. & Siddall, G. Survival: how to do your existing job and more…with fewer people.
Earp, V. Plagiarism school 101.
Emary, L., McCluskey, C. & Watt, V. Little and often: exploring the potential of information literacy mini-lessons.
Fidgeon, A. Research court in session: actively learning information evaluation skills (teachmeet).
Fisher, K. & Joyce, L. Drilling down to the core: collaborative core content creation (poster).
Fisher, K. & Joyce, L. Drilling down to the core: collaborative core content creation (teachmeet).
Flynn, D. Embedded information literacy in the 21st century curriculum.
Franke, F. Networking for information literacy – collaborations of German university libraries.
Goldstein, S. & Walton, G. Transferability of information and data literacy beyond academia (poster).
Graham, N., Kelly, B., Packham, C., Walsh, A. & Gray, A. Improving the Information Literacy entry on Wikipedia: LILAC's first edit-a-thon!
Graham, N., Secker, J., Flynn, D. & Burke, S. From local to global: sharing good practice in information literacy.
Grant, V., Sen, B. & Harrison, D. Innovation, creativity and change: utilising appreciative inquiry and reflective practice to achieve asset based information literacy.
Gray, A. & Graham, N. Wikipedia: it's not the evil elephant in the library reading room.
Green, B. A tool to help researchers migrate from Google searches to evidence based reviews.
Groves, A. Understanding ebook usage: using citation analysis to inform information literacy teaching (poster).
Gullbekk, E. The networks of library support: teaching PhD-candidates who publish (poster).
Hadfield, E. E-safety advocates – working with young people to raise awareness.
Haigh, J. IL on a shoestring – using a 'whole team' approach to developing in-house resources.
Halfpenny, S. Contextualising your literature search using the Contextagon.
Hames, I. & Ardner, B. Information literacy course module from Credo.
Hohmann, T. & Leiss, C. Sixth formers at university – easing transition and promoting student recruitment.
Howard, H. Off to a flying start.
Hunter, I. IL and the Google generation: teaching research skills to sixth formers.
Inskip, C. Mapping resources to competences.
Irving, C. Developing and running a National Information Literacy Community of Practice on a shoestring.
Järveläinen, L. & Karjalainen, R. A joint IL-recommendation for Finnish universities.
Kavli, S. & Heldaas Seland, E. Empowering students to critical thinking.
Keleher, J. An investigation into student use of LibGuides: do they want fries with that?
Kelly, B. & Evans, J. Preparing our users for digital life beyond the institution (poster).
Kelly, B. & Graham, N. Getting to grips with Wikipedia.
Kelsall, J. Great expectations: a team approach to creating interactive online skills resources (including storyboards).
Kevill, S. Referencing: finding the missing piece (teachmeet).
Latham, M. & Ewen, M. DIY: in-house evaluation to inform and improve IL delivery (teachmeet).
Lawrence, D. The Perch – making words take flight! (poster).
Lindstein, L. Specialising in information literacy or field knowledge?
Lönn-Stensrud, J. & Gullbekk, E. PhD on track – working with generic skills in context.
Lundmark, A.M. & Lönn-Stensrud, J. Launching high school teaching support at the University of Oslo Science Library.
McCluskey, C. Improving information literacy through annotated bibliography assignments: a collaboration between library and faculty (teachmeet).
McGowan, K. & Holgate, E. Crossing the line with students: is that you or the other lady?
McKinney, P. & Sen, B. Supporting information literacy educators: reflective pedagogic planning improving information literacy practice.
McManamon, C., Finnegan, A., Monagle, H. & Cottam, S. What do you know? Or who do you know? Developing information literate information professionals through networking and free training (teachmeet).
McNicol, S. Information flow: an integrated model of applied information literacy.
Man, M. Designing one information literacy website for many types of information seeking behavior.
Martin-Bowtell, A. Bio bibliography building (teachmeet).
May, J. CILIP and the policy work of the Information Literacy Steering Group.
Moody, J. Is library induction "Pointless"? A quiz based approach to motivate students and make induction memorable (including demo).
Nikoi, S. Information literacy and learning transition: what can we learn from first year undergraduates?
Osborne, A. & Ramsden, B. Practice & pedagogy: joining the dots (poster).
Owen, M. Improving 'creative' bibliographies (teachmeet).
Palmqvist Wojda, E. & Stigell, A. Dare! One way of leaving your comfort zone and becoming better teachers (poster).
Parkes, D. & Pope, A. An ID&AL Loop.
Pek, S. Partnerships with education sector to uplift information literacy in Singapore schools.
Pettersson, K. & Landgren, L. Methods and tools for information literacy assessment – a collaborative project between university and upper secondary school libraries inSweden.
Pullinger, D. Rationalising referencing: changing policy and practice to smooth transition and improve the student experience.
Purcell, S. & Barrell, R. The power of collaboration: promoting information literacy skills in a Primary Initial Teacher Education course.
Raynor, M. & Craven, J. Evaluating the impact of information skills training on health professionals: looking beyond satisfaction.
Schneider, M. Digital Dates.
Schneider, M. The Student Guide to Social Media: a case study in collaboration.
Schroeder, M. Finding the student voice in subject blogging (teachmeet).
Scott, C. & Collins, A. Strategic proposal for an embedded information literacy curriculum.
Secker, J. & Jackson, C. Publication without tears: tips for aspiring authors.
Sen, B. & Spring, H. Supporting young people's heath information needs.
Sharman, A. Between the sheets: the affordances and limitations of social reading tools and their potential role in developing critical and information literacy skills.
Shreeve, S. & Delaney, E. Value and impact of librarians' embedded IL teaching on student skills development.
Smith, J. Digital literacy in practice: bringing the library to the classroom (poster).
Spring, H. Information literacy when there is no information: the case of rare and orphan diseases.
Stanton, W., Fodor, P. & Curtis, R. Gaining the advantage: advocates for literacy: a peer learning approach.
Trtíková, I., Belohoubková, L., Landová, H. & Tichá, L. IVIG: let's talk information literacy in the Czech Republic (poster).
Walsh, A. Playing with information literacy.
Walton, G. & Johnston, E. Does information literacy increase a person's self-efficacy (poster).
Ware, F. The rise of the researcher: meeting a shift in IL demand.
Webb, A. & Tams, M. SMILE – are you ready for your close up? (poster).
Wella, K. Myths or facts: what do serodiscordant couples in Malawi know about HIV and AIDS?
White, J. What does digital literacy mean for information literacy practitioners? Business as usual or a disruptive force?
Whitworth, A. Dialogism, Mikhail Bakhtin and information literacy.
Wilkinson, E. & Bell, M. SADL up: putting students in the driving seat for digital literacy.
Young, Z. Can peers be more influential than you? A 'flipping great approach to teaching web evaluation (teachmeet).